Having failed to get an entry for the Wensleydale Wedge I was disappointed but determined to make the most of what promised to be another mostly dry weekend. In preparation for next year I thought perhaps I ought to check that I really could do two ultras in a weekend without my body making too many protests.
Saturdays experiment used the Anglezarke Amble route- it is local and I know it well. PLus my husband was coming mountain biking. This could be a route I use next year when I have no race or event but need an ultra. It is only 24 miles but it is easy to add in some extra at the end on lovely trails by the reservoir. They are only a little undulating, compared to the rest of the route, and work well as an out and back. Having waited for the clag to clear we headed for Chorley and tried not to get depressed at the thick cloud obscuring Winter Hill. Once parked I leapt out and was off, worried that it might get dusk before I returned.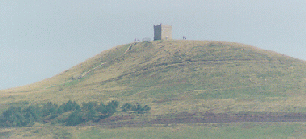 Well before the Pike I had stripped off hat, gloves and cag. The views over the south Lancashire Plain with rapidly rising and dispersing cloud were superb. Shortly after crossing the Belmont road I got a taste of how wet and boggy today was going to be and en route to Turton it got dire (although at least the scary cows were missing). As I was cursing yet another stumble and mid thigh soaking my phone rang. I don't usually carry it but had been persuaded. Just as well it was my husband pointing out I had not taken a van key and so if I got back before him I would need to stand in the cold and wait. Damn. He galantly tried to catch me up all the way round but it was quicker running given the state of paths and bridleways today, plus he had taken a more leisurely start. I made good time to the Strawberry Duck but then seemed to slow on the big track to Cadshaw. Time for food. I am not good at food and running- both I love, just not together. It seemed to work and despite the headwind I ploughed on to Darwen Moor and the Tower.
For me this always signifies the home stretch- a bit daft as there is lots to go but it is the outer limit of lots of our training runs and so makes me feel closer to the end. The good track allowed me to make up some lost time and contemplate the bog awaiting me when I crossed the Bolton road.
It was no worse than I expected so I munched more food and soon saw the shelter cross and views back to Preston. It's down hill all the way to White Coppice so that was a joy. I did not realise at the time but my husband even with detours to avoid footpaths had now almost caught me up. Before long I had crossed the lanes and was under Anglezarke quarry. Not far now. The last field is notoriously wet but after the bogs of today it seemed quite dry in comparison. Route complete. Now all I needed was a quick check that the van was still locked and a trot down to the Castle and back. It's not really a Castle but a folly. It was harder than I expected but I kept myself amused checking out all the Go Ape gear and trying to calculate min/mile pace etc. The ancient Garmin I had dug out was not performing well. I got back to the van with just enough time to check the map and Bob arrived with the keys. Perfect timing.
Sunday did not dawn with the cloudless blue skies I had anticipated but by 11 it was looking more promising. I had been meaning to run the Guild Wheel for some time, so now was my chance. It is a circular 21 mile route built to celebrate this years Preston Guild. Most is tarmac or light gravel so it would be fast going and hard on the feet. At least there wouldn't be any bogs. Being able to run from the door almost made up for the tarmac. The first 5 miles are my cycle route to work and I had cycled the rest a number of times.It is well used but that made for lots of hellos and good afternoons and a little competetiveness between me and some of the more recreational cyclists. By Brockholes and the Ribble I knew I could not only make it back before dusk but also add in a couple of extra miles down the old tram way. The park was busy but people and bikes thinned out after that and I used the miles markers to keep up my motivation. The last mile is all up hill- we should live somewhere else! Still, job done. I cheated really because I think I did 24 miles not the 'needed' 27 but I now know my body will manage two ultras back to back, especially if the second is relatively easy and neither are at race pace.
Next time on both routes I will take a camera.